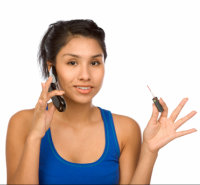 Call 24 Telephone Banking
When you were a kid, phones were just a fun toy, a way to call your neighbors and ask if their refrigerator was running*. But these days there are a lot more grown-up uses…like managing your floridacentral accounts!
With Call 24 Telephone Banking, you can check your balance, hear your recent transactions, and much more. Just pick up any touchtone phone—this branch is always open!