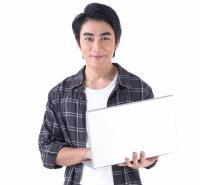 eStatements
Take a look out your window: sunshine, beach, cool breeze, palm trees. Mother Earth has been good to us, and at floridacentral, we believe in being good to our mothers. We offer online eStatements to help cut down on paper waste and save some trees.
But that's not the only reason—you'll receive your statement sooner each month, be able to view them anytime without having to dig through your files, and you can easily print or download the information into your financial software when it's time to balance your checkbook. Best of all, it's totally free!
Besides, without trees, what would we tie our hammocks to?