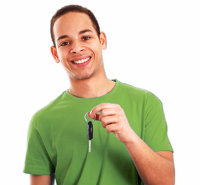 New and Used Auto Loans
Tired of being left in the dust at every stop light by that guy in the new sports car? Maybe you'd like to get more than single digits on your gas mileage? Or you're just ready to get something built in this millennium. Whatever your reason, floridacentral can help you get behind the wheel of a new car, truck, or motorcycle.
Contact us before you even start shopping. We can give you an idea of how much financing you'll be approved for, and even give you pre-approval for additional bargaining power. Let us handle the loan process—you'll be back on the road in no time!
Summary

Competitive rates

Low down payment

Flexible terms

Affordable payments

Pre-approval available

Extended coverage available

Personal service

First Time Auto Buyer Program

Easy application process

Find

your new ride online

Auto Advisory Service

Before you buy a new or used car, get in touch with the Auto Advisors. Their no cost, "members only" car buying and information service helps you locate and purchase a new or used vehicle.

The Auto Advisors help eliminate all of the hassle and pressure normally associated with the car buying process. Members who live from Venice to Fort Myers, please contact Gerry Schilling at 239-227-9209. All other areas, please contact Jerry Skipper at (813) 781- 6042 or (800) 528-3330 ext. 6220.

For more information on this service contact us or you can visit them on the web at http://floridacentralcu.autoadvisors.com.





Extended Coverage

Extended Warranties

Cars always seem to break down just after the factory warranty expires. Now you can gain peace of mind by purchasing an extended warranty for your new or newer pre-owned vehicle. Not only do extended warranties save you money on expensive repairs, but our extended warranties save you up to 50% on what the dealer charges.

GAP Coverage

GAP (Guaranteed Asset Protection) is a great product that can easily be built into your loan package, giving you peace of mind. It pays the difference between the balance on your vehicle loan and what your insurance pays in the event your vehicle is stolen or totaled. When you purchase or refinance your next vehicle, contact floridacentral Credit Union to apply and save money with GAP.