Should I Take the Zero-Percent Financing Offered by the Dealer?
05/22/2020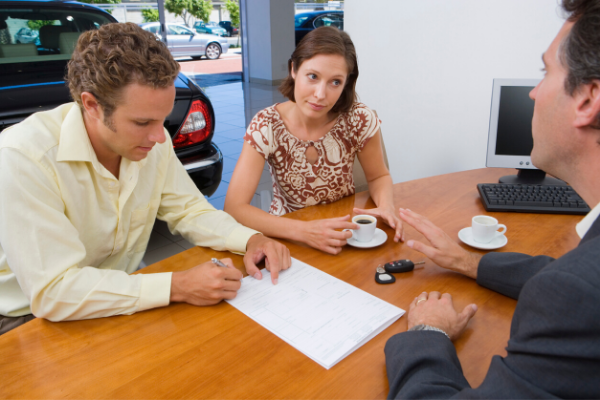 Q: I'm in the market for a new set of wheels, and I've seen some dealers advertising zero-percent financing. Should I take this offer?
A: An auto loan without any interest sounds like a dream; however, there are many considerations before deciding to take out a zero-percent financing loan. Let's take a closer look at the true cost of zero-percent financing so you can make an informed and responsible decision about your auto loan.
What is zero-percent financing?
With traditional loans, the lender is willing to extend money to the buyer because the lender will reap the benefits of the interest payments over the life of the loan. With a zero-percent car loan, the dealer financer is offering to lend the buyer money to purchase a new vehicle without charging any interest over the life of the loan. Sounds like a great deal, right? Surprisingly, zero-percent financing may not be in the best interest of buyers! Consider four reasons why.
1. Your selection may be limited.
Automakers may offer zero-percent financing on slower-selling models or to help clear out stale inventory to make room for newer models. Therefore, a zero-percent offer may not even be available on the model you really want.
2. You lose some of your negotiating power.
Since the lenders are only profiting from the actual sale on these loans, they will rarely agree to bargain down the price of the vehicle.
3. You may be enticed to spend more than planned.
Buyers may be blinded by the temptation of not paying any interest and therefore consider a vehicle that has a higher monthly price tag than they originally planned.
4. You may end up paying too much for the car.
Models that offer zero-percent financing often have other deals featuring cash-back rebates or dealer incentives that are not as heavily advertised. These incentives and rebates are typically not available on auto loans with zero-percent financing. Plus, zero-percent financing loans are typically only offered to buyers who have excellent credit, with a credit score above 700 and a long credit history. These buyers are likely to qualify for the best auto loan rates from their credit union. Many times a buyer will actually pay less by skipping the zero-percent financing and selecting the rebate offer along with a traditional low-rate loan from their credit union.
Let's compare these options. A dealer is offering 0% APR* for 72 months on a new truck. Alternatively, the buyer can choose a $4,000 dealer incentive offer for the truck paired with a floridacentral loan at 2.99% APR.*
| | | |
| --- | --- | --- |
| | 0% Dealer Financing | floridacentral Auto Loan + Rebates |
| Interest rate: | 0% | 2.99% |
| Term in months: | 72 | 72 |
| Total purchase price (before tax): | $39,490 | $39,490 |
| Total manufacturer rebates: | $0 | $4,000 |
| Price after rebates: | $39,490 | $35,490 |
| Sales tax: | $2,369 | $2,129 |
| Total sales price (after tax): | $41,859 | $37,619 |
| Loan amount: | $41,859 | $37,619 |
| Monthly payment: | $581.38 | $571.41 |
| Total payments: | $41,859.40 | $41,141.44 |
| Total interest paid: | $0.00 | $3,522.04 |
In this instance, zero percent is not the best deal. By selecting the rebates and a traditional loan, this buyer pays about $10 less per month and saves $718 over the life of the loan!
Additionally, if you want to protect your vehicle by purchasing GAP, an extended warranty, and credit protection plans, you will find that they are much more expensive when purchased through the dealer. Therefore, you will end up saving more money by purchasing these products from your credit union.
Conclusion: Don't be blinded by shiny zero-percent offers!
Zero-percent is not always as great as it sounds. It's best to run your own numbers through a free auto loan calculator to see what your actual monthly payment and total cost of the loan would be before taking on a loan. After comparing, you may just find that a floridacentral auto loan is the best deal for you!
*APR is Annual Percentage Rate. Example loans are for illustration purposes only. Visit floridacentralcu.com for current loan rates and terms.
Sources:
View all posts