Thanksgiving Leftover Casserole
11/26/2021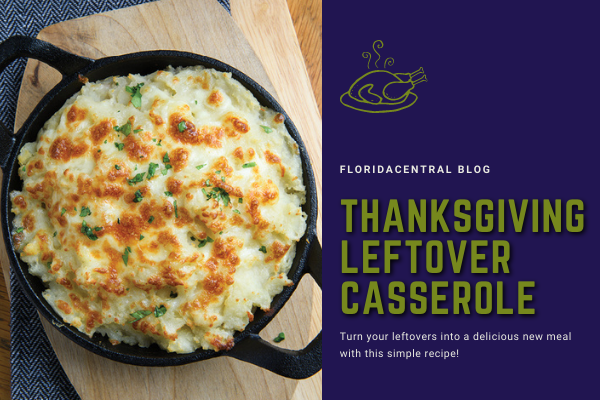 We all know the best part of Thanksgiving is the leftovers. Why not use them all in one easy meal? Feel free to switch up the veggies to whatever you have in the fridge. Instead of all stuffing, use up those leftover biscuits or cornbread.
Ingredients:
4 tablespoons butter
¼ cup flour
Salt and pepper to taste
1-2 cup turkey gravy (can use canned or jar chicken gravy)
1 cup milk
1 cup shredded mozzarella (or any mild cheese)
3 cups stuffing (can use biscuits or cornbread cut into 1-inch pieces)
3 cups chopped cooked turkey
½ cup peas (can use corn)
1 cup chopped carrots
1 cup green beans (can use leftover green bean casserole)
Directions:
Preheat the oven to 350°F.
Melt butter in a medium-size saucepan over medium heat.
Add the flour to the pan and whisk for 1 minute.
Whisk in gravy, milk and cheese until smooth.
Place the cornbread, turkey, and veggies into a 9×13 pan prepared with vegetable spray.
Top with the gravy mixture.
Cover with foil.
Bake for 20-25 minutes.
Remove foil and bake for another 10 minutes.
View all posts