Lisa S's Black Bean Burgers with Sofrito and Spicy Mojo Mayo
07/08/2022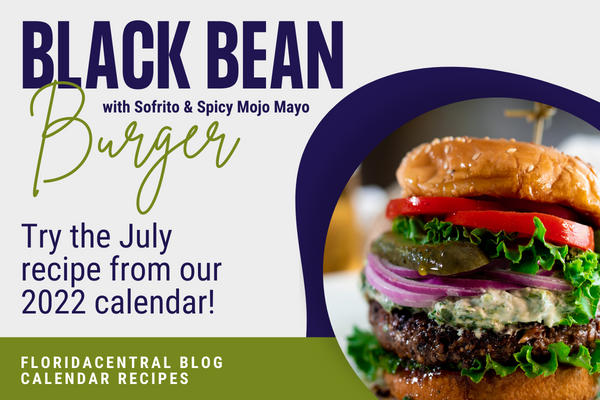 This delicious black bean burger is a must-try recipe for vegetarians and vegans!
Ingredients:
Dry Ingredients
¼ cup ground chia seeds ground
½ cup walnuts
¼ cup old-fashioned oatmeal
¼ tsp. ground cumin
½ tsp. ground oregano
¼ tsp. sea salt
¼ tsp. ground black pepper
Sofrito Ingredients
2 garlic cloves minced
¼ small sweet onion
¼ green bell pepper
8 sundried tomatoes, not in oil
2 tsp. soy sauce
1 - 15.5 ounce can of black beans, drained and rinsed
Olive oil for frying burgers (or grill over a medium fire)
Spicy Mojo Mayo Ingredients
1 jalapeño pepper
(seeds optional)
1 garlic clove
1 small bunch of cilantro (trim off the thick stems)
½ cup vegan mayo or your favorite mayo
18 tsp. ground oregano
Pinch of ground cumin
Directions:
Grind chia seeds in a food processor until the consistency of coarse pepper. Put in a bowl.
Add walnuts, oatmeal, cumin, oregano, sea salt, and pepper to a food processor. Pulse until coarsely ground. Add to bowl with chia seeds.
Pulse all the sofrito ingredients in a food processor until coarsely chopped. Add to bowl with dry ingredients and stir to combine.
Heat skillet over medium-low heat. Pour enough olive oil in a skillet to coat the bottom. Form patties and fry (or grill) for 4-5 minutes on each side.
Make the spicy mayo. In a food processor, pulse jalapeno pepper, garlic clove, and a small bunch of cilantro until coarsely chopped, but not pureed.
Transfer to a small bowl. Stir in the mayo, oregano, and cumin. Serve chilled with burgers.
Serve on a toasted bun or lettuce leaves with your favorite burger toppings.
View all posts