Brian's Island Chicken
11/18/2022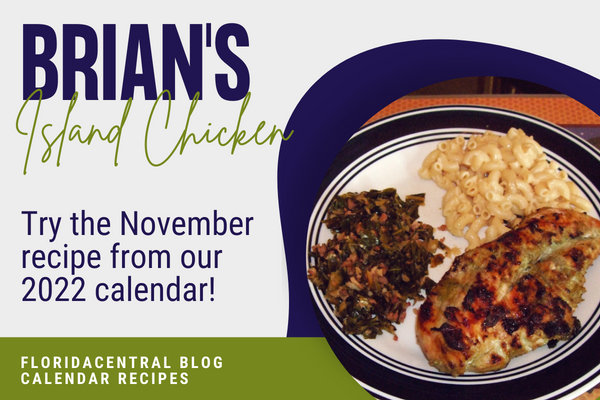 Ingredients:
Boneless chicken breasts
3 tbsp. soy sauce
1 tbsp. brown sugar
Caribbean Green Spice Ingredients:
1 green bell pepper
1 bunch fresh cilantro
6 garlic cloves
1 small onion
1 one-inch piece of fresh ginger root
¼ cup olive oil
¼ cup orange juice
3 tbsp. lime juice
1 package chicken bouillon
1 fresh habanero pepper (optional)
½ tsp. black pepper
1 tsp. ground allspice
1 pinch of ground cloves
Directions:
Rinse cilantro, wash pepper, peel the ginger root, and chop it. Place all spice ingredients in a blender or food processor and puree until smooth. Taste to see if you feel anything needs to be adjusted.
Store in the refrigerator and this should last for a month. The spice mix can also be mixed with melted cheese for nachos or in salsa.
Take 2 boneless chicken breasts and clean them with lime juice and rinse.
Add soy sauce and brown sugar to 1 cup of the green spice mixture and mix them together.
With a knife, make slashes in chicken and then coat with green spice mix, making sure that you fill slashed areas with seasoning.
Marinate chicken overnight in the refrigerator. The next day, take the chicken out of the refrigerator about an hour before grilling to come to room temperature.
Place on grill and cook until chicken is done and a little charred.
Serve with red beans and rice, collard greens, macaroni and cheese, plantains, or any other "island style" dishes that you like.
View all posts