Margit's Elegant Double-Crust Chicken Pot Pie
12/30/2022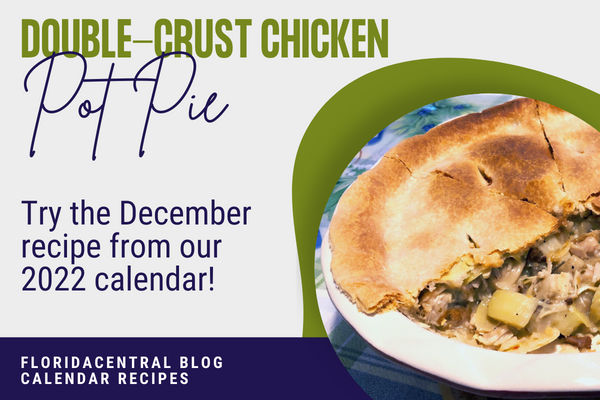 Ingredients:
1 pkg. refrigerated ready-to-use pie crust (2 crusts)
1 cup chicken breast, cut into 1-inch cubes
1 cup baby artichoke hearts, rinse & drain, quartered
1 ½ cups white button mushrooms, clean & quartered
½ cup dried chanterelle mushrooms, chopped
1 large potato, peeled and cubed
1 medium shallot, finely chopped
2 cloves of fresh garlic, minced
½ cup dry white wine
1 ½ cups chicken broth
1 tsp. freshly squeezed lemon juice
½ cup all-purpose flour (for thickening)
½ cup shredded sliced cheese (swiss or provolone)
1 tsp. herbes de Provence dried herb mix
1-2 tbsp. olive oil
Salt and pepper
Directions:
Preheat oven to 350°F. Line the bottom of a 9-inch pie dish with one of the crusts.
Sauté chicken over medium heat in 1 tbsp. olive oil until golden brown and cooked through. Transfer to a plate.
Add 1 tbsp. olive oil, shallots, and garlic to the pan. Sauté on medium heat until translucent.
Add mushrooms & potatoes. Cook for 5-6 minutes; add artichoke hearts, chicken, and white wine. Stir well. Cook on medium-high heat until most of the liquid has evaporated.
Add lemon juice, herbes de Provence, and salt and pepper to taste; stir well. Cook for 3 minutes. Stir in the chicken broth. Allow mixture to come to a simmer. Add cheese and stir until melted.
Stir in flour a little at a time until the desired sauce consistency is reached.
Remove from heat and pour the mixture into the pie plate. Cover with the second crust and crimp edges with a fork. Make several slits in the top crust.
Place the pie in the oven and bake for approximately 35 minutes until the crust is golden brown and the contents are bubbly. Remove from oven and allow to cool for about 10 minutes before serving.
View all posts